Colorize and replace colors
innovative Windows image processing software for quick colorizing of B&W photos
AKVIS LLC has released an innovative Windows image processing software for quick colorizing of B&W photos and replacing colors on color photos. Coloriage -- the name of the program reveals its main feature and an easy interface, which is as simple as a child's coloring book ("coloriage" means a coloring book in French).

Operating as a plug-in for Adobe Photoshop and other image editors, AKVIS Coloriage requires no complicated techniques or special knowledge to achieve beautiful results, whether the task is delicate colorization of heirloom photographs or trying new color schemes on a photo of your home.
The plug-in is very easy to handle. After you mark areas of a photo with a virtual colored pencil, the program recognizes the borders of the area to be colorized and paints in the new color.
Multiple areas of a photo can be treated at the same time, each with a different color. (Click to open this image in a new window and see how the areas are marked for colorization.)
The program's extensive palette of basic colors, coupled with a specialized Color Library for refining the subtle tones for skin, hair, grass and other natural elements, ensure total flexibility in the choice of colors for photo enhancement. This method offers flawless and exciting colorization of every kind of photo, from portraits and landscapes to fashion and architectural photography.
Change the color of your car: before and after
Colorize a black & white photo: step 1, step 2 and finished
Paint your walls at home: Before and After
Change your girl friend's clothes: Before, After
Change the color of your house: Select Color, see the results
Visit the tutorial to see this intuitive software make a simple black-and-white photo bloom with color.
New to Version 1.3 are additional options of the Erase tool, a feature of drawing straight lines and segments and improved Installation Wizard.
AKVIS Coloriage is compatible with Adobe Photoshop, Photoshop Elements, Corel Photo-Paint and Painter, Jasc Paint Shop Pro and other image processing software supporting plug-ins. This is a Windows product, but Akvis also offers Retoucher, Chameleon, and Enhancer for Macintosh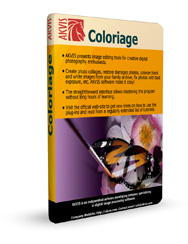 AKVIS Coloriage is distributed electronically over the Internet; the full functional trial version (Download: akvis-coloriage-setup.exe) is available evaluation.
The price of a single copy is 97 US Dollars. Coloriage is also available in a money-saving bundle. The AKVIS Alchemy bundle (Retoucher, Chameleon, Stamp, Enhancer and Coloriage) is offered for USD $250.00, a savings of $121.00 over purchasing each separately. All the programs are included in the details page.
AKVIS LLC was founded in 2004 by software development professionals with a focus on creating simple yet powerful software tools for personal and professional creativity. AKVIS has produced several successful software plug-ins for digital image processing. AKVIS Coloriage V.1.3 joins Chameleon, Stamp, Enhancer and Retoucher, innovative software for bringing out the visionary in all of us.
AKVIS Coloriage V.1.3
AKVIS LLC
Colorize B&W photos and replace colors
http://akvis.com
Photo: image editing, pictures, gallerys
audience = Windows designer, artist, photographer or digital camera owner
.
.
Participate in your Design Center
Lots of fun and information for all... don't forget, any community is only as good as the participation of its members. We invite your tips, tricks, comments, suggestions and camaraderie.
Ask for the DT&G Monthly: to receive DT&G newsletter each month, happenings in the Design Center and regular columns like the "Mail Bag" and "Cool Sites"
SUBSCRIBE : to the Designers' CAFE email list
Link to this site, and then show us the link. We'll send you any of our current door prizes, just for your trouble.
SUBMIT: a news link, new font, or product review
REVIEW a website: posted by our readers
SUBMIT a Website: for review in Web Design & Review
Submit a Critique: of a popular web site, or YOUR web site!
WIN PRIZES: in our "Question of the Month" column
Meet Friends of the Design Center people who care!
Become a Friend of the Design Center: and put your link on the front page
Submit News, Views or your latest press release
Submit your Software Review: shareware, freeware, fonts, graphics, utilities -- if you've found software you like, let DT&G readers know about it!
Learning, training, tips, tricks, and moreThe Design Bookshelf team reads and reviews the best books for the creative visual designer, desktop publishing practitioner and visual communicator. If you want to know it -- we'll show you the very best way to learn it... in the Designer's Bookshelf
Get more out of your computer: join a user group - There are computer clubs around the world called "user groups" where you find fellow computer users ready and willing to share a wealth of information. If you're not a UG member, you should be.. find a group at the User Group Network
Photoshop FAQ - Got a question? Get an answer: in the Photoshop 911 FAQ if you don't find the answer there, you can ask your question or send your problem to the Photoshop 911 Team
Advertise
your products or services among these pages! Call: 540-433-8402 for details.