Visualize Your Data
with Chart ModelKit for .NET.
Following the most recent trends in data visualization technology, Perpetuum Software LLC announces the release of Chart ModelKit for MS .NET Framework, a software component specially elaborated for constructing high fidelity charts and diagrams.
Usually, developers face some problems when creating charts: individual settings of the chart elements, addition of non-standard elements, complexity of the product which doesn't allow a flexible customization of chart appearance and functionality. Chart ModelKit is a component for designing charts and graphs, helping you solve all these problems. This product will make work of the developer more effective and reduce time for application development.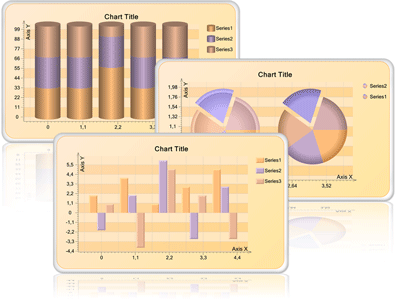 A built-in WYSIWYG designer provides the ability to customize charts without writing a single line of code. A mouse click on any chart element provides access to all its properties which can be interactively changed. The designer is available both at design time and run time.
Advanced data binding model provides a set of unique capabilities for creating charts without the need to code. Due to the unique object architecture the product grants the opportunity to design the great many of chart configurations which are hard or impossible to create using other approaches. Chart ModelKit supports export to SVG, Flash, BMP, JPEG, GIF, PNG and TIFF formats.
The product delivers a wide range of 2D charts which can be used in .Net Windows Forms applications. The library contains a set of standard elements: axes, labels, legends, titles etc and a set of available series types: Pie, Bar, Stacked Bar, Stacked100Bar, Spline, Line, Bubble, Area, Stacked Area, Stacked100Area, Stock, Candle Stick.
In addition, Chart ModelKit supports a number of features inherent to all Perpetuum Software products. The component is written in C#, contains only managed code and supports all .NET data sources. Full source code in C# is available. Chart ModelKit run time is royalty free.
Most developers continue to actively use third-party chart components as a part of their applications, though complexity and different integration mechanisms can challenge product implementation and developer productivity. Chart ModelKit is included into the .NET ModelKit Suite - an integrated developer framework with similar design time and run time customization facilities. This provides easy integration with other Perpetuum Software products -- Report Sharp-Shooter, Instrumentation ModelKit and OLAP ModelKit.
Title: Visualize Your Data with Chart ModelKit for .NET.
* Author: Software Team - Perpetuum Software LLC
* Website: http://www.perpetuumsoft.com
* Department: Programming Development: languages, utilities
* Target Audience: Windows computer users
* Detailed information on Chart ModelKit
* Download fully-functional trial version
Perpetuum Software specializes in development of high-quality .NET and ASP.NET software components compatible with MS Visual Studio .NET, C# Builder, Delphi .NET and other IDEs supporting .NET Framework. Such use-proven components as Report Sharp-Shooter, Instrumentation ModelKit, OLAP ModelKit, Chart ModelKit and other .NET components by Perpetuum Software are already well known on the software development market and are used by developers in more than 50 countries.
.
.
Participate in your Design Center
Lots of fun and information for all... don't forget, any community is only as good as the participation of its members. We invite your tips, tricks, comments, suggestions and camaraderie.
Ask for the DT&G Monthly: to receive DT&G newsletter each month, happenings in the Design Center and regular columns like the "Mail Bag" and "Cool Sites"
SUBSCRIBE : to the Designers' CAFE email list
Link to this site, and then show us the link. We'll send you any of our current door prizes, just for your trouble.
SUBMIT: a news link, new font, or product review
REVIEW a website: posted by our readers
SUBMIT a Website: for review in Web Design & Review
Submit a Critique: of a popular web site, or YOUR web site!
WIN PRIZES: in our "Question of the Month" column
Meet Friends of the Design Center people who care!
Become a Friend of the Design Center: and put your link on the front page
Submit News, Views or your latest press release
Submit your Software Review: shareware, freeware, fonts, graphics, utilities -- if you've found software you like, let DT&G readers know about it!
Learning, training, tips, tricks, and moreThe Design Bookshelf team reads and reviews the best books for the creative visual designer, desktop publishing practitioner and visual communicator. If you want to know it -- we'll show you the very best way to learn it... in the Designer's Bookshelf
Get more out of your computer: join a user group - There are computer clubs around the world called "user groups" where you find fellow computer users ready and willing to share a wealth of information. If you're not a UG member, you should be.. find a group at the User Group Network
Photoshop FAQ - Got a question? Get an answer: in the Photoshop 911 FAQ if you don't find the answer there, you can ask your question or send your problem to the Photoshop 911 Team
Advertise
your products or services among these pages! Call: 540-433-8402 for details.