Photo collages made easy
Chameleon
AKVIS has released version 4.0 of its photo collage plug-in AKVIS Chameleon for Mac and Windows. New to the version is an advanced algorithm that helps to improve image processing speed on large pictures and reduces memory consumption.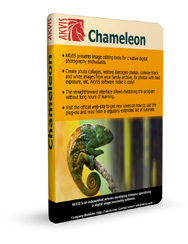 Creating photo collages can be a lot of fun. Especially if you use AKVIS Chameleon. This ingenious software makes the process easy and entertaining. As the name of the program suggests, the plug-in pastes a copied object into a picture in such a way that the object adapts to the new color range and blends with the background, the way chameleons do.
The tool does not require precise selection of the copied object and can be helpful to home users who are not very experienced in image editing. You can create customized postcards for your loved ones; make a wedding album using all kinds of photos and backgrounds; correct closed eyes (by implanting open eyes from another photo of the series), change the appearance of a person, etc. Check the Tutorial page to get a dozen of original ideas.
Designers will appreciate this tool as it allows them to combine images with entirely different color ranges or to create the effect of drawing on a texture surface (crumpled paper, wood, etc), and all that with only a mouse-click.
Two modes of collage creation are available, Standard and Snapshot. In Standard Mode, AKVIS Chameleon implants the pasted object into the background; while the Snapshot mode adds dimension to a collage, layering the blended components so that the texture and relief of the primary image can be seen through.
The new version of AKVIS Chameleon offers an advanced algorithm that helps to improve image processing speed on large pictures on 50% and reduces memory consumption. It makes your work yet more effective.
AKVIS Chameleon is compatible with Adobe Photoshop and Photoshop Elements, Jasc Paint Shop Pro and Ulead PhotoImpact.
AKVIS Chameleon V. 4.0 for Windows runs on Microsoft Windows 98/ME/2000/XP/NT and the Macintosh version runs on the Mac OS X platform. For a free trial, AKVIS offers 10 days of fully functional use. The users who tried the previous version of Chameleon and have their version expired, now have the opportunity to test the software again.
Demonstrations of AKVIS Chameleon features are available at www.akvis.com/en/chameleon-tutorial/
* Download the Chameleon demo for Windows akvis-chameleon-setup.exe
* Download the Chameleon demo for Mac OS X: akvis-chameleon-setup.dmg
* Download the complete Chameleon user guide: chameleon.pdf (Acrobat PDF file)
Registered users of previous versions of AKVIS Chameleon can upgrade to V.4.0 for free. Normally priced alone at USD $69.00, AKVIS Chameleon is also available in the AKVIS Alchemy bundle, which includes AKVIS's entire family of photo editing plug-ins: Retoucher, Enhancer, Stamp, Coloriage, Noise Buster and Chameleon, for USD $270. One license allows activating the software on two computers, for example, on a desktop and on a laptop.
AKVIS LLC was founded in 2004 and since then has released several successful software plug-ins for digital image processing. With a corporate philosophy focusing on finding new ways to spur creative thought, AKVIS LLC designs intuitive software tools for creative self-expression.
.
.
Participate in your Design Center
Lots of fun and information for all... don't forget, any community is only as good as the participation of its members. We invite your tips, tricks, comments, suggestions and camaraderie.
Ask for the DT&G Monthly: to receive DT&G newsletter each month, happenings in the Design Center and regular columns like the "Mail Bag" and "Cool Sites"
SUBSCRIBE : to the Designers' CAFE email list
Link to this site, and then show us the link. We'll send you any of our current door prizes, just for your trouble.
SUBMIT: a news link, new font, or product review
REVIEW a website: posted by our readers
SUBMIT a Website: for review in Web Design & Review
Submit a Critique: of a popular web site, or YOUR web site!
WIN PRIZES: in our "Question of the Month" column
Meet Friends of the Design Center people who care!
Become a Friend of the Design Center: and put your link on the front page
Submit News, Views or your latest press release
Submit your Software Review: shareware, freeware, fonts, graphics, utilities -- if you've found software you like, let DT&G readers know about it!
Learning, training, tips, tricks, and moreThe Design Bookshelf team reads and reviews the best books for the creative visual designer, desktop publishing practitioner and visual communicator. If you want to know it -- we'll show you the very best way to learn it... in the Designer's Bookshelf
Get more out of your computer: join a user group - There are computer clubs around the world called "user groups" where you find fellow computer users ready and willing to share a wealth of information. If you're not a UG member, you should be.. find a group at the User Group Network
Photoshop FAQ - Got a question? Get an answer: in the Photoshop 911 FAQ if you don't find the answer there, you can ask your question or send your problem to the Photoshop 911 Team
Advertise
your products or services among these pages! Call: 540-433-8402 for details.