CAD on the Mac?
Ilexsoft Releases HighDesign 1.6.2
Ilexsoft has released HighDesign 1.6.2, a free update to their professional CAD application for architects, engineers, designers and home owners. This new version introduces a number of new features such as support for pen tablets, the ability to search inside text blocks and annotations, enhanced dimensions, printing, and more. HighDesign 1.6.2 also features miscellaneous enhancements and bug fixes, improved stability and updated localizations.
Ilexsoft also announced that it plans to offer an Universal Binary version of its HighDesign software for Intel processor-based Macintosh later this year.
HighDesign is the powerful 2D CAD and illustration program for Mac OS X that features advanced vector tools, a clean user interface and many special tools developed to assist the user in the design process. From the first sketches to drafting, HighDesign lets the designers quickly achieve the results they want by providing an easy to use Digital Design environment they can actually enjoy using.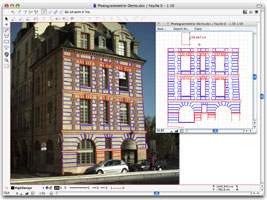 Photogrametry: included is the technique of reliably measuring planar or tridimensional objects by means of photographs. The images of the object can be taken with traditional cameras, digital cameras or radiation sensors. The most important advantage of this technique is that it makes possible to get the dimensions of an object with a high degree of accuracy without actually having to measure the object directly. Also, the whole process is much quicker than direct measurements.
* Essential for restoration projects!
Ilexsoft HighDesign
HighDesign runs on Mac OS X 10.2.8 and later.
* HighDesign is available in two versions, Professional for 349.95 USD and Standard for 149.95 USD, to best suit the different needs of designers.
* Multi- license packs and Educational licenses are available.
* Free tech support for registered users.
* Localized versions include English, French, German and Italian.
* Pricing and purchasing information are available
* Free time-limited trial version available.
* Includes a "Sketch Effect"
* Restoration Mode
* Feature Listing & Specifications Chart
* Professional version features
About Ilexsoft
Based in Perugia, Italy, Ilexsoft is committed to creating innovative solutions for the Mac AEC design community by developing advanced yet easy to use software. Ilexsoft brings to HighDesign years of experience in the world of AEC design that have driven the development in the direction of the real needs of professionals and first-time CAD users as well.
.
.
Participate in your Design Center
Lots of fun and information for all... don't forget, any community is only as good as the participation of its members. We invite your tips, tricks, comments, suggestions and camaraderie.
Ask for the DT&G Monthly: to receive DT&G newsletter each month, happenings in the Design Center and regular columns like the "Mail Bag" and "Cool Sites"
SUBSCRIBE : to the Designers' CAFE email list
Link to this site, and then show us the link. We'll send you any of our current door prizes, just for your trouble.
SUBMIT: a news link, new font, or product review
REVIEW a website: posted by our readers
SUBMIT a Website: for review in Web Design & Review
Submit a Critique: of a popular web site, or YOUR web site!
WIN PRIZES: in our "Question of the Month" column
Meet Friends of the Design Center people who care!
Become a Friend of the Design Center: and put your link on the front page
Submit News, Views or your latest press release
Submit your Software Review: shareware, freeware, fonts, graphics, utilities -- if you've found software you like, let DT&G readers know about it!
Learning, training, tips, tricks, and moreThe Design Bookshelf team reads and reviews the best books for the creative visual designer, desktop publishing practitioner and visual communicator. If you want to know it -- we'll show you the very best way to learn it... in the Designer's Bookshelf
Get more out of your computer: join a user group - There are computer clubs around the world called "user groups" where you find fellow computer users ready and willing to share a wealth of information. If you're not a UG member, you should be.. find a group at the User Group Network
Photoshop FAQ - Got a question? Get an answer: in the Photoshop 911 FAQ if you don't find the answer there, you can ask your question or send your problem to the Photoshop 911 Team
Advertise
your products or services among these pages! Call: 540-433-8402 for details.