Voice-To-Text for iPhone
use your iPhone to record short voice messages

QuickVoice PRO Recorder brings high tech Voice-to-Text emailing to the iPhone platform! QuickVoice's Voice-to-Text technology is powered by SpinVox, the world's largest commercial speech platform.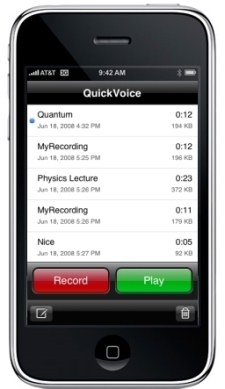 The existing QuickVoice for the iPhone and personal computer already conveniently records voice notes, reminders, dictations, meetings, interviews, shopping lists, to do lists, and even entire lectures and multi-session seminars. And now, QuickVoice Pro users will be able to use their iPhones to record short voice messages, which are automatically converted to perfectly formatted text emails by SpinVox and sent to the email inbox of the user's choice.
It's no secret typing emails on the iPhone's keyboard can be quite challenging. "We see no reason why many users won't simply abandon the tedious task of typing text emails in favor of simply touching, speaking, and sending ... It's that easy!" says Kerrie-Lynn Corcoran, business manager for nFinity. "QuickVoice's Voice-to-Text emailing feature represents a huge step forward for the iPhone's audio interface." Corcoran also notes there are other benefits of the new Voice-to-Text feature. "Aside from making life easier there are also the safety benefits of using voice-to-text. It's also a great "accessibility" feature as well."
QuickVoice PRO can be purchased at the introductory price of 99-cents. QuickVoice PRO provides the same great features of its "free" voice recorder including the capability to send voicemails up to 20MB, Voice-to-Text email and also a free bonus copy of its award winning QuickVoice pC for Mac and Windows.
QuickVoice iP is the premier voice recorder for the iPhone and in a short time became the #1 voice recorder in approximately 40 countries. The QuickVoice pC bonus software for desktop and laptop computers has also received numerous accolades including the prestigious "Macworld Best Software Under $40." Together these two apps provide tremendous versatility to iPhone and computer users alike. Features include: 1-touch record and save, voice email, voice reminders, desktop voice stickies, audio editing, and more.
Minimum Requirements: iPhone and iPod Touch 2.0 or later
Pricing and Availability: QuickVoice PRO can be purchased for $0.99 (USD) from Apple's App Store directly using the iPhone or through iTunes running on personal computers.
QuickVoice PRO
QuickVoice iP
QuickVoice PC
Download and Purchase: ax.itunes.apple.com
SpinVox: http://www.spinvox.com
Headquartered in Lincoln, Rhode Island, nFinity, Inc is a privately funded software company founded in 2001 with emphasis placed on product quality, value, and customer satisfaction. nFinity's award winning software products for Mac OS X, Windows, and Apple iPhone 2.0 platforms have earned them only the highest accolades by way of customer and editorial reviews. QuickVoice and desktopADvantage are registered trademarks of nFinity Inc. Copyright 2001-2008 nFinity, Inc. All Rights Reserved. Apple, the Apple logo, iPhone and iPod are registered trademarks of Apple Computer in the U.S. and/or other countries. - Lincoln, Rhode Island - Published on 05/11/09
.
Participate in your Design Center
Lots of fun and information for all... don't forget, any community is only as good as the participation of its members. We invite your tips, tricks, comments, suggestions and camaraderie.
Ask for the DT&G Monthly: to receive DT&G newsletter each month, happenings in the Design Center and regular columns like the "Mail Bag" and "Cool Sites"
Discuss Design & Desktop Publishing : in the Designers' CAFE
Link to this site, and then show us the link. We'll send you any of our current door prizes, just for your trouble.
SUBMIT: a news link, new font, or product review
REVIEW a website: posted by our readers
SUBMIT a Website: for review in Web Design & Review
Submit a Critique: of a popular web site, or YOUR web site!
WIN PRIZES: in our "Question of the Month" column
Meet Friends of the Design Center people who care!
Become a Friend of the Design Center: and put your link on the front page
Submit News, Views or your latest press release
Submit your Software Review: shareware, freeware, fonts, graphics, utilities -- if you've found software you like, let DT&G readers know about it!
Learning, training, tips, tricks, and moreThe Design Bookshelf team reads and reviews the best books for the creative visual designer, desktop publishing practitioner and visual communicator. If you want to know it -- we'll show you the very best way to learn it... in the Designer's Bookshelf
Get more out of your computer: join a user group - There are computer clubs around the world called "user groups" where you find fellow computer users ready and willing to share a wealth of information. If you're not a UG member, you should be.. find a group at the User Group Network
Photoshop FAQ - Got a question? Get an answer: in the Photoshop 911 FAQ if you don't find the answer there, you can ask your question or send your problem to the Photoshop 911 Team
Advertise
your products or services among these pages! Call: 540-433-8402 for details.