Have you entered yet? Enter this month's door prize drawing... there's always a new promotion next month! We invite your comments
Designing Women... revisited
March is Women's History Month...
GENDER STUDIES SYMPOSIUM
Yes, it's the 26th Annual Lewis & Clark College GENDER STUDIES SYMPOSIUM: OUR VOICES, OURSELVES upcoming on Wednesday, March 7 - Friday, March 9, 2007. All symposium events are free and open to the public -- and you get all the details at: www.lclark.edu/
* See the "Guerrillagirls" poster from the 2003 Gender Studies Symposium at Lewis & Clark College, and compare it to this year's poster. (at right or, pop up here)
Yes, you have come a long way baby!
professional women web designers & developers
is the home for women web designers. Women entrepreneurs, professionals and experienced, web designers should give a visit to www.womendesignersgroup.com
A Few Good Women...
Preparing the way for much future progress in the status of women in U.S. government was the work of a few good women and men in the Nixon administration. The story of their efforts and the results achieved are recalled in an oral history collection, "'A Few Good Women...' Advancing the Cause of Women in Government, 1969-74," recently archived in Penn State University Libraries' Special Collections Library, 104 Paterno Library. An overview of the project, including profiles, is available at http://www.afgw.libraries.psu.edu
Meet the NERD GIRLS
The Nerd Girls project takes an in depth and intimate look at women in engineering. It highlights their diverse talents and demonstrates their ability to work as a team striving to accomplish a challenging, but doable engineering project.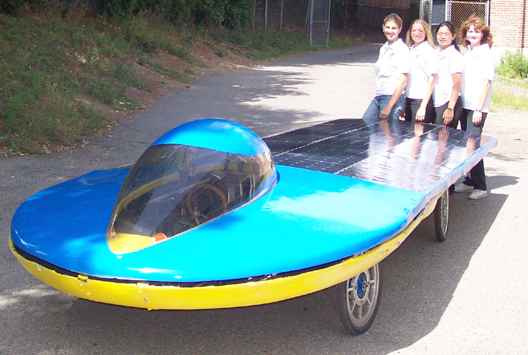 Check out the Nerd Girl's solar car called the Anne E. B., which won the American Tour de Sol 95 - 1st Place Solar Cross Continental Category and American Tour de Sol 95 - Most Efficient Solar Cross Continental Category
Here ae all the details... on the Nerd Girls project ...
Nervy Girls ~ Guerrilla Girls!
Well, I didn't know if this one really fits the theme, but it sure looked like some fun... The Thinking Woman's Magazine, is now dead. It was based on the revolutionary idea that young women enjoy thinking about issues beyond makeup and boyfriends, the volunteer-produced Nervy Girl! Fortunately, they've been reincarnated as Guerrilla Girls
While visiting, make sure to see the Guerrilla Girls' Bedside Companion where they tell the story of Maria Robusti, daughter of Venetian painter Tintoretto -- and other highlights in the history of western art -- and do NOT miss their poster exhibition
Also, grab a copy of their "DON'T STEREOTYPE ME! sticker, to print on adhesive paper, put up where it's needed most.
* (Download: StereoSticker.zip)
Women in the Military
Women In Military Service For America Memorial is a unique, living memorial honoring all military women - past, present and future. Go to: http://www.womensmemorial.org/
Women, Enterprise & Society:
A Guide to Resources in the Business
This is an online publication that identifies materials in the Business Manuscripts Collection at Baker Library and documents women's participation in American business and culture from the eighteenth through the twentieth century. The launch of WES represents the culmination of a three-year project to identify and catalog resources for study of the unexplored sections of Baker Library's manuscript collections. Researchers will find, for example, that the guide does not include papers of major twentieth-century women entrepreneurs or corporate leaders. The guide does, however, include hundreds of individual items, such as account books, day books, letters, legal documents, and payroll registers. These materials clearly document the extent to which women were an integral part of the fabric of American economic and business life, participating in and contributing to enterprise and society in ways that were largely overlooked until recently.
Go to: http://www.library.hbs.edu/hc/wes/
Distinguished Women
Biographies of accomplished and famous women of the world. Go to: http://www.distinguishedwomen.com/
Teen Girls Know Their Way Around The Net
A survey released by the Girl Scouts of the USA reveals new information about the behavior of teen girls online. Over half the girls (58%) reported they were the savviest computer users at home and 18% say they could hack into a school computer. Most of the respondents reported that they could use their tech knowledge to get around parental rules, with 86% saying they secretly chat, 57% can read parent's email and 42% can access porn sites. Parents who are not as tech savvy as their children are advised to keep abreast of Internet technologies and their children's online activities. From Karen Thomas for USA Today Go to: http://www.usatoday.com/usatonline/20020213/3852120s.htm
Happy March... and Women's History Month!
And, that about wraps it up for this month. See'ya next month -- and don't forget to participate in another upcoming topic in the Design Center
Now, back to Creative Networking, or The Design Center Lobby
Participate in your Design Center
Lots of fun and information for all... don't forget, any community is only as good as the participation of its members. We invite your tips, tricks, comments, suggestions and camaraderie.
Ask for the DT&G Monthly: to receive DT&G newsletter each month, happenings in the Design Center and regular columns like the "Mail Bag" and "Cool Sites"
SUBSCRIBE : to the Designers' CAFE email list
Link to this site, and then show us the link. We'll send you any of our current door prizes, just for your trouble.
SUBSCRIBE: to the Web Design & Review email list
READ Our Writer's Guidelines: before sending articles
SUBMIT: a news link, new font, or product review
SUBMIT: a link to a Photoshop web site